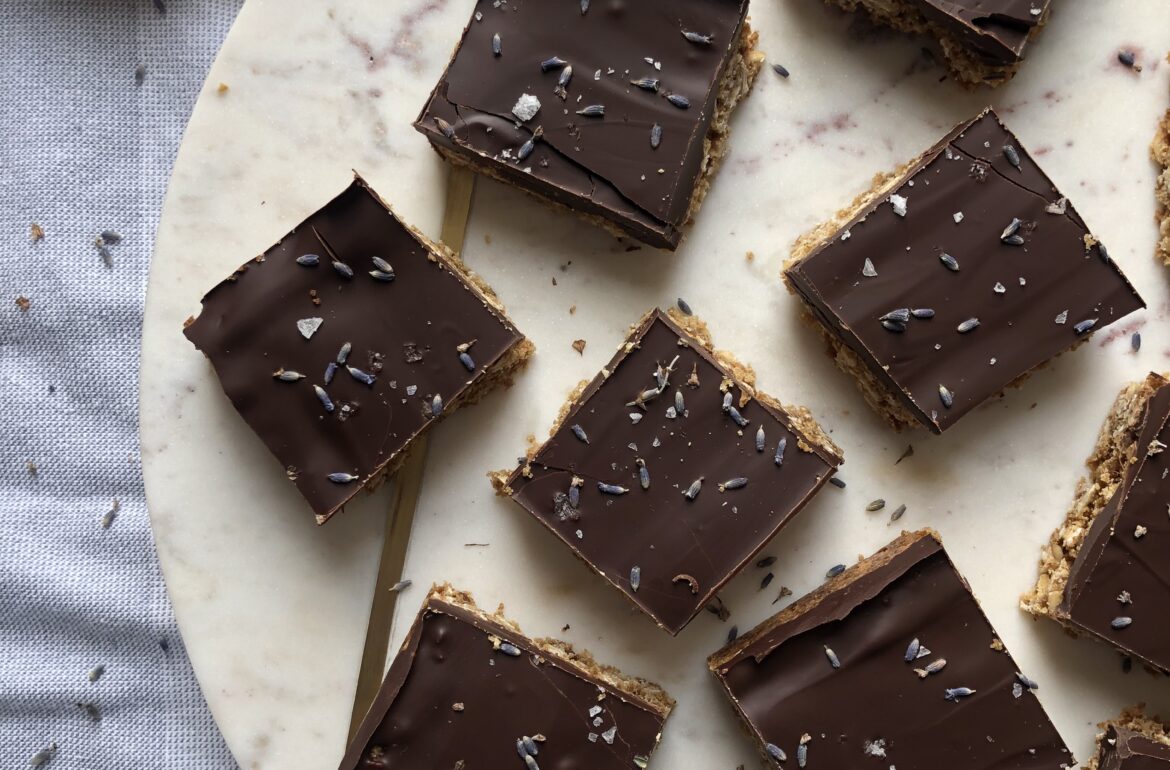 Chocolate Lavender Oatmeal Bars
Our friend Kelsey made another recipe for us! Check out these Chocolate Lavender Oatmeal Bars made with our Culinary Lavender. Don't forget to follow her on Instagram, her recipes are incredible! 
Chocolate Lavender Oatmeal Bars
Prep Time: 15 minutes + 20 minutes after bake
Cook Time: 30 minutes
Total Time: 55 minutes
Ingredients:
1 C. unsalted butter
1 C. Brown Sugar
⅓ C. White Sugar
1 ½ C. Old Fashioned Oats
1 egg
1 ½  C. All Purpose Flour
1 tsp Baking Powder
½ tsp Baking Soda
1 C. Semi Sweet Chocolate Chips
3 Tbsp Coconut Oil
1 tsp Vanilla
1 tsp Culinary Lavender
½ tsp salt
½ tsp Maldon Salt (flaky salt)
Assembly:
Preheat oven to 350℉.
In a medium sized bowl  or in a stand mixer. Whip butter, brown sugar, and sugar together. When butter is whipped, add 1 egg, and vanilla, and mix until incorporated. (about 3-4 minutes)
Add dry ingredients, salt, baking powder, baking soda, flour, and oats, slowly to butter-sugar mixture.
Line a 9×13 metal pan with parchment paper, and spread the cookie mixture evenly on the pan.
Bake in a preheated oven for 20-22 minutes, or until slightly golden brown.
Allow to cool completely.
In a small bowl, place chocolate chips and coconut oil. Microwave at 30 sec increments until chocolate chips have melted. Stirring after every increment.
Pour melted chocolate over oatmeal cookie pan, and spread evenly with a spatula.
Sprinkle with lavender and flakey salt.
Place in the refrigerator for 30 minutes, then remove from the fridge and cut into squares. Serve and Enjoy!
*Adaptations:
-To make vegan: Replace butter with vegan butter, and replace egg with 3 Tbsp of ground flaxseeds with 2 tbsp of water. Replace brown sugar with date syrup, and white sugar with coconut sugar.
-To make gluten free: Replace all purpose flour with gluten free substitute flour, or almond flour.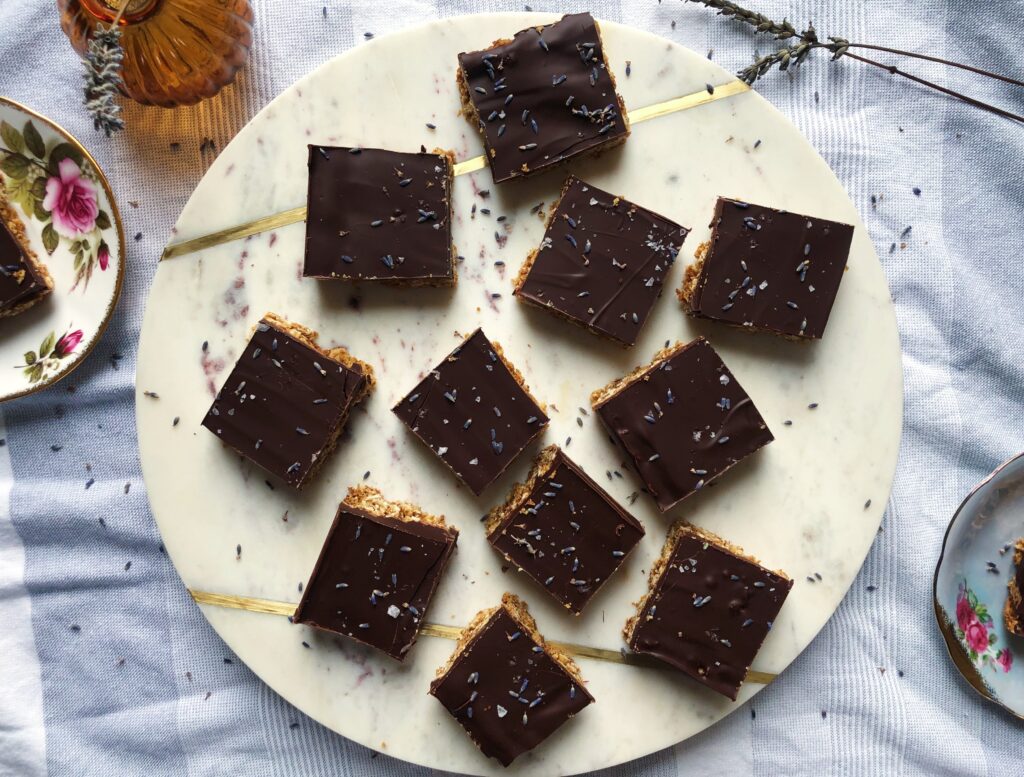 Do you enjoy these recipes? Have you tried making any of them yet? Send us your recipe ideas for a chance to be featured! 
---
Make sure to follow us on Facebook and Instagram to keep up to date on your favorite small business.
Chocolate Lavender Oatmeal Bars
---