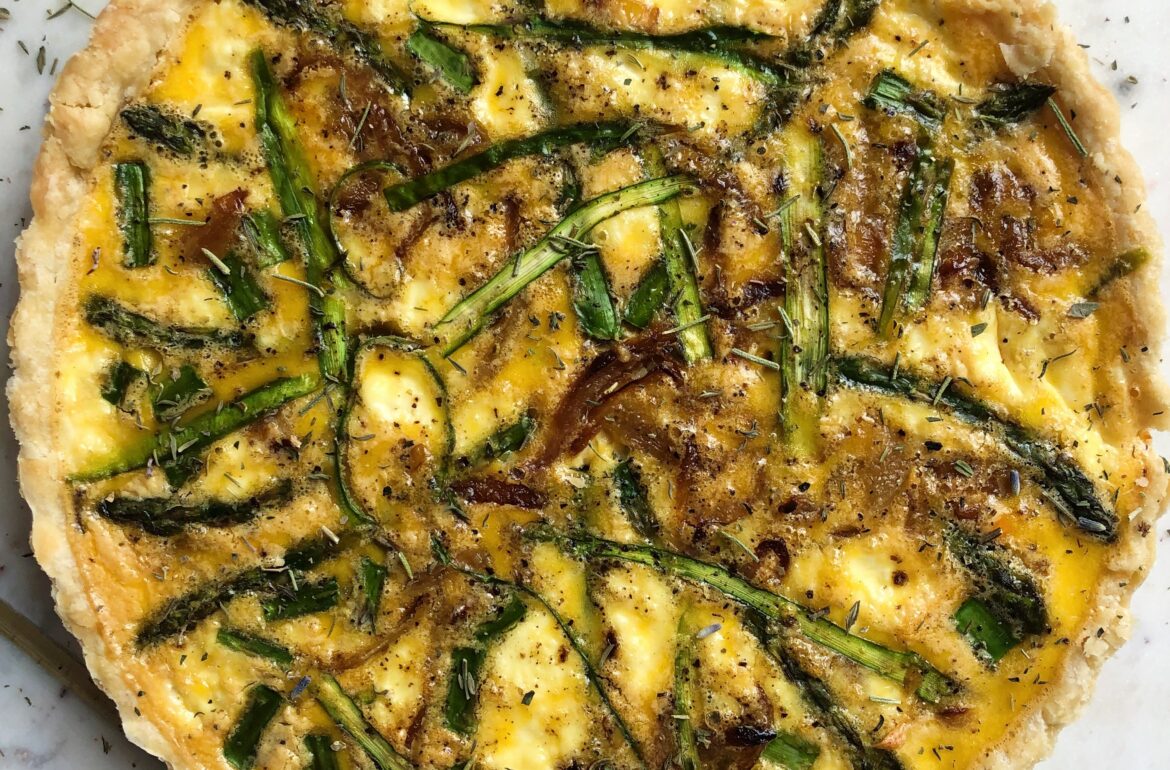 Springtime Asparagus Herb Quiche
This Springtime Asparagus Herb Quiche recipe was created by our friend Kelsey! This savory breakfast dish was was made with our Herbs de Provence using dried herbs straight from our farm in Oregon. 
Springtime Asparagus Herb Quiche
Prep Time: 45 minutes
Cook Time: 30 minutes
Total: 1 hr 15 mins
Ingredients:
7 eggs
1/2 C. Oatmilk (heavy cream if not DF)
10-12 Asparagus stalks
1/2 C. Caramelized onions*
2 oz Goat cheese
1 tsp Herbs de Provence
Crust ingredients:
1.5 C All Purpose flour
10 Tbsp COLD unsalted vegan Butter (regular unsalted butter if vegan)
1 tsp salt
3.5 Tbsp ice water
1 egg
Crust Prep:
In a large bowl add flour, and salt. Grate COLD butter into flour, or cut into small cubes and use a pastry cutter to cut butter into pea sized balls in flour. Or use a food processor and blend until butter and flour have formed a rough dough.
 Mix one egg with ice water in a small bowl and set aside.
Add egg mixture to flour/butter blend and mix together until the dough starts to form a ball. Feel free to dump mixture on to a flat surface and knead with your hands until the dough starts to form a ball. *Be sure not to over knead! Just enough so that it forms a ball. Over mixing can melt the butter and activate the flour.
Cover the dough ball with plastic wrap or place it in a bowl with a towel, and place in the fridge for 1 hour. Or freezer for 30 minutes.  (This can also be prepped the night before and kept in the fridge overnight)
*Caramelized Onions:
Thinly slice one medium yellow onion.
Heat a medium sized skillet over medium heat. Add 2 Tbsp of Olive Oil and 1 Tbsp of butter of ghee.
Add sliced onion to pan and mix throughout olive oil/butter. Turn heat down to medium heat and allow onions to cook slowly, stirring onions in the pan every few minutes for 30-40 minutes.
Onions should be a dark caramelized brown and very soft. Remove from heat and set aside.
Assembly:
PREHEAT oven 365℉
On a flat surface, roll out dough to about ½ cm thin.
Place into 9" round pie pan or tart pan. Trim excess crust, smooth out and crimp the edges.
Place parchment paper over the crust and add pie weights, or ½ C of dried beans or rice.  Par-bake the crust in a heated oven for 10 minutes. Remove the crust from the oven and allow to cool for 10 minutes.
In a bowl mix 7 eggs, oatmilk, 1 tsp salt, and a dash of cracked pepper.
Place chopped asparagus, caramelized onion (see below), knobs of goat cheese, and herbs de Provence in the pie pan.
Pour egg mixture over filing.
Sprinkle a pinch of salt, cracked pepper, and herbs de Provence over the quiche.
Bake quiche in the preheated oven for 25-27 minutes until the middle is set and the crust is slightly golden.
Remove quiche from the oven, and allow to cool for 15 minutes.
Serve and enjoy!!
We hope you enjoy our Springtime Asparagus Herb Quiche recipe. Don't forget to follow Kelsey on Instagram and start tagging us in your recipes! 
---
Make sure to follow us on Facebook and Instagram to keep up to date on your favorite small business.
---