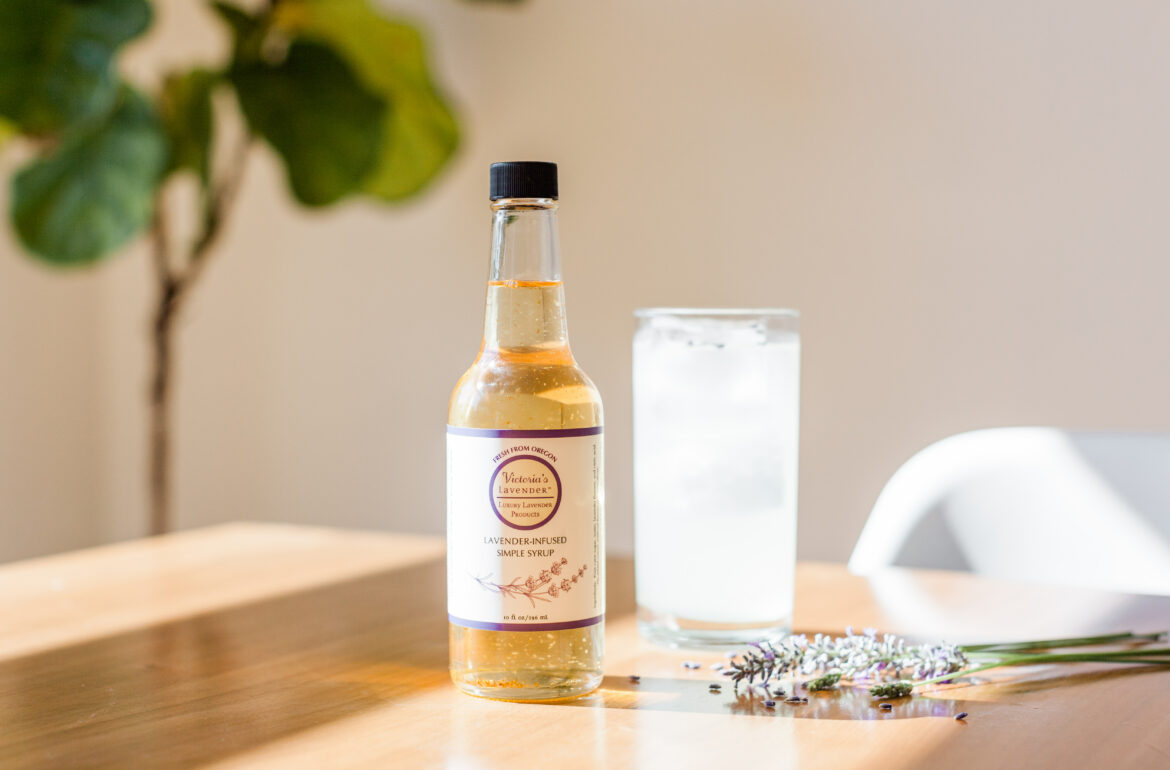 Tired of Pumpkin Spice EVERYTHING? Change up the season and try Lavender Simple Syrup!
Tired of Pumpkin Spice EVERYTHING? Change up the season and try Lavender Simple Syrup!
I love October! The leaves change color and start to fall off trees. Everything starts to feel a little bit cozier & I pull out my best snuggly sweaters as the weather starts to cool. Rainy days. Foggy mornings. I love it all. Except the bombardment of Pumpkin Spice everything. Does this also make your toes curl & wrinkle your nose? Does it feel like it is no longer the fall season but pumpkin spice everything season?  Let's push back & take Fall back! Have you ever thought to use lavender syrup instead?  Lavender is definitely a great way to change up your fall routine whether it is for your morning latte or your holiday cocktail parties.
If you aren't familiar with simple syrups and how to use them, you're in for a treat.
It is called "simple" because of it's basic combination of sugar and water.  Simple syrups offer an easy way to add sweetness to a cocktail or other drinks without having to dissolve granular sugar in the glass.
Simple syrup is the foundation of many cocktails. As a matter of fact, sugar in cocktails has been around since we defined "cock-tail" as a word. It was originally coined by Harry Croswell in The Balance and Columbian Repository dated 1806.  In the May 13th 1806, issue, the paper's editor wrote that it was a potent concoction of spirits, bitters, water, and sugar; it was also referred to at the time as a bittered sling and is essentially the recipe for an old fashioned. 
"Simple syrup" appeared in print in the first ever cocktail recipe companion, "Professor" Jerry Thomas's 1862 work, The Bar-Tender's Guide (a.k.a. How to Mix Drinks or The Bon-Vivant's Companion).
The purpose of simple syrup is to disperse sweetness evenly throughout beverages of any temperature. 
So now that we have the idea of what a simple syrup is, we can explore its many options. However for our purpose it is lavender flavored simple syrup (liquid sweetener), made with three ingredients: sugar, water, and dried lavender. It's perfect for sweetening and flavoring hot and cold drinks.
Lavender is in the mint plant family, so it has the faintest hint of a minty flavor, plus citrus notes and some earthiness. The sweetness in the recipe helps tone down the strong floral flavors and you're left with a beautiful, and tasty syrup. 
Here are 4 possible benefits of lavender and extract:
May improve mood disorders. Lavender is widely used as an aromatherapy agent and supplement to help with anxiety, depression, and fatigue. …
May boost sleep. …
May soothe menstrual cramping. …
May improve skin health.
So if y0u add a little Lavender Simple Syrup to your drink, just tell yourself it's for your health! 
Also if you are looking for various recipes on how to use it, find the link below. 
https://www.yummly.com/recipes/drinks-with-lavender-syrup 
---
Make sure to follow us on Facebook and Instagram to keep up to date on your favorite small business.
Tired of Pumpkin Spice Everything?
---