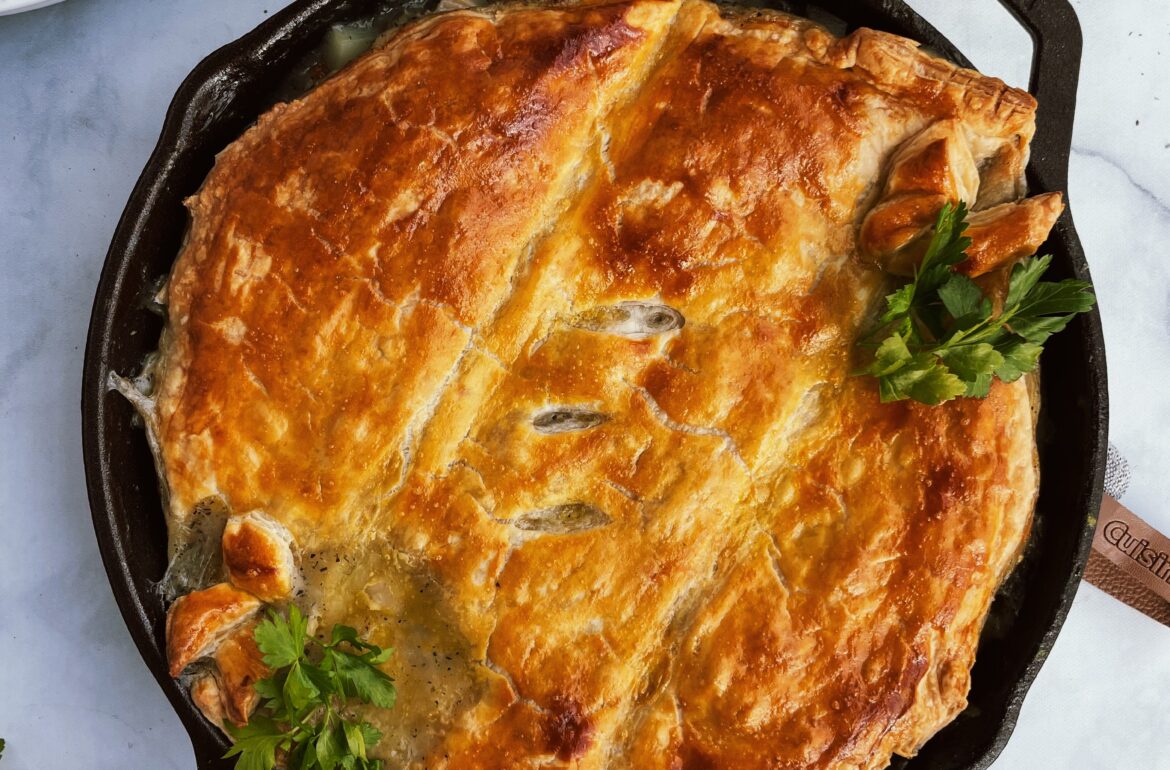 Victoria's Lavender – Skillet Chicken Pot Pie
Author: Kelsey Miguel (@not_umamis_cooking)
---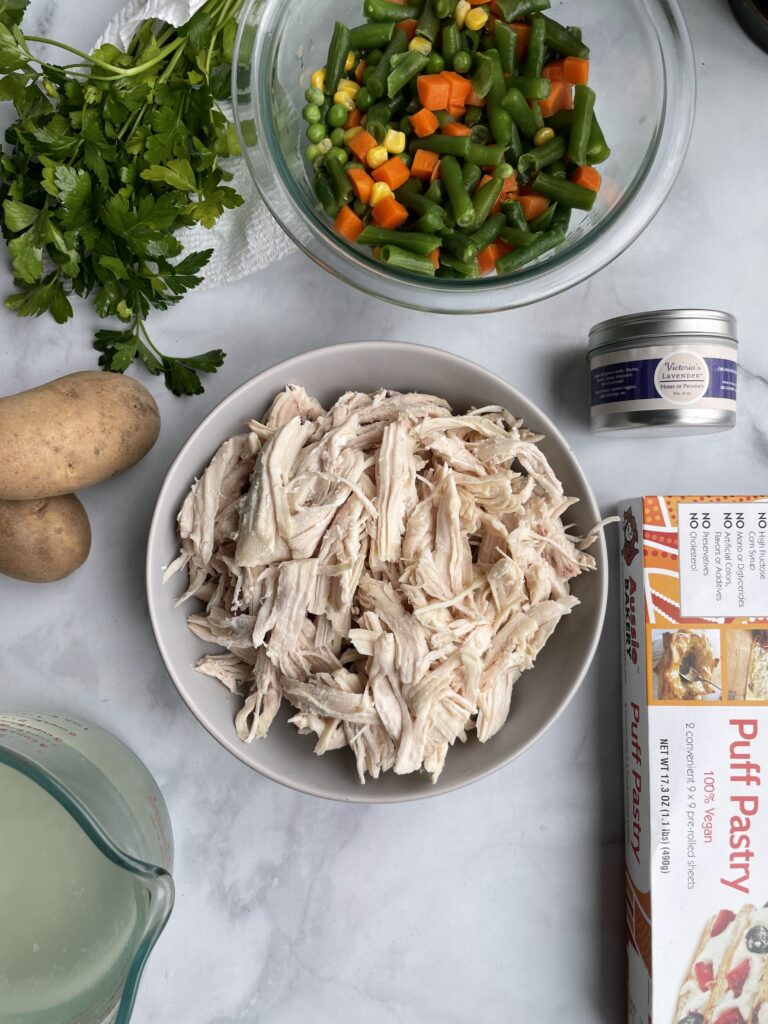 Skillet Chicken Pot Pie
Serves: 4-5
Prep time: 25 minutes
Cook time: 35 minutes

Ingredients:
2lbs

chicken breast

(2 breasts)

1.5 C

frozen mixed vegetables,

thawed

1/3

medium yellow onion

, minced

1.5 C

potatoes

, peeled and diced

1/4 C

parsley

, chopped

3

garlic

cloves

2.5 C

chicken broth

 

1

egg

2 Tbsp

olive oil

1 tsp

salt

1 tsp

black pepper

4 Tbsp

all purpose flour 

(+extra for puff pastry)

1 package

frozen puff pastry
Kitchen Supplies:
10 inch cast iron (or medium casserole dish)

Medium pot

Liquid measuring cup

Strainer

Cutting board

Wooden spoon

Peeler

Knife
Assembly:
Cook chicken.
Option 1:  Boil chicken breast in a medium sized pot, with four cups of water or until the chicken breast is covered with water. Add 3 garlic cloves and 1 Tbsp of salt. Allow to cook for 20 minutes, and skim off any scum that comes to the top. Remove the chicken breast from broth and allow to cool, then, then shred with hands or forks. Strain and save chicken broth.
Option 2:

 

In your cast iron skillet, heat 2 Tbsp of olive olí over medium heat. Grill chicken until cooked, about 10-15 minutes. Remove from heat and allow to cool, shred with hands or forks. (This option you will have to buy or make your own chicken broth.
Option 3: You could also buy rotisserie chicken and make this dish even quicker! 

Preheat oven 375F

In a 10 inch cast iron, sauté onion in 2 Tbsp of olive oil.

Add in vegetables and sauté for 1-2 minutes. 

Add in flour, salt, herbs, and black pepper, mix until flour coats vegetables.

 Slowly add in chicken broth, ½ C at a time until broth has thickened. 

Add potatoes and shredded chicken. Mix until fully incorporated. 

Top with (thawed and rolled out) puff pastry, cut the pastry  along the edges of the pan, and brush with egg wash. Bake in the oven for 35 minutes.

Enjoy!




---
If you liked this recipe, discover more from Kelsey at www.notumamiscooking.com or on Instagram @not_umamis_cooking.
---
Limoncello Lavender Spritz
---