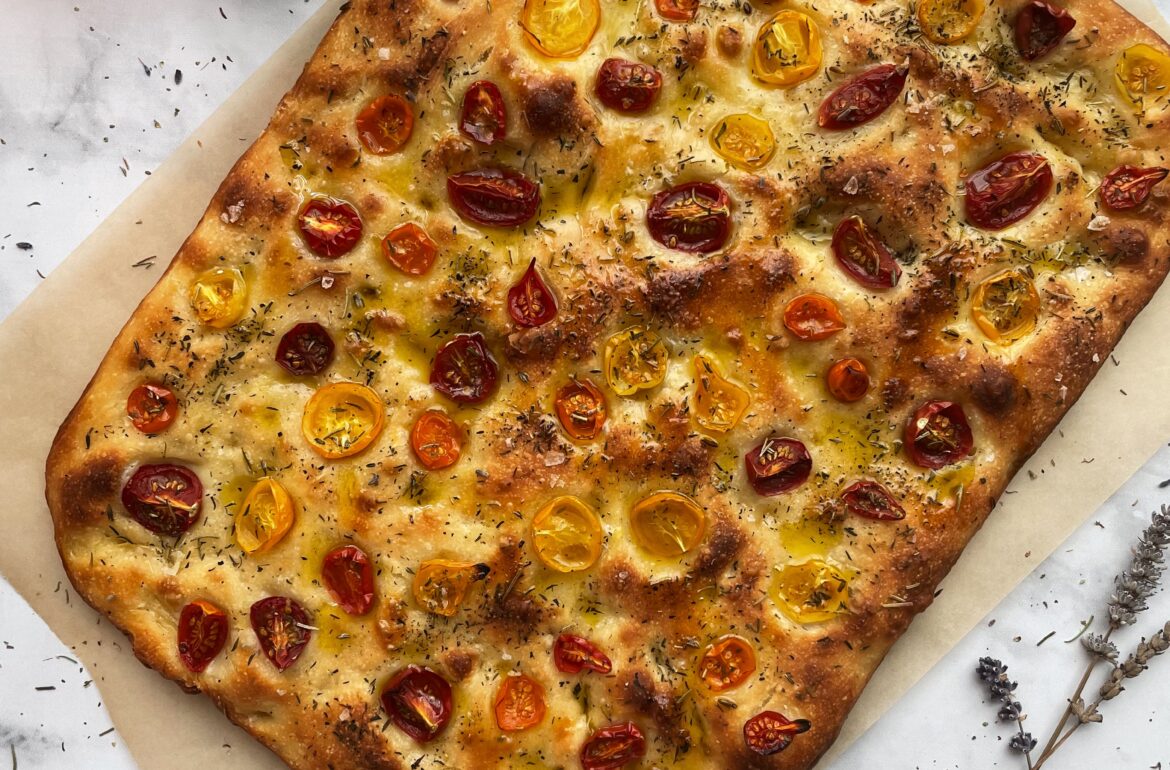 Overnight Focaccia with Herbs de Provence
Overnight Focaccia with Herbs de Provence
Overnight Focaccia with Herbs de Provence
Author: Kelsey Miguel (@not_umamis_cooking)
---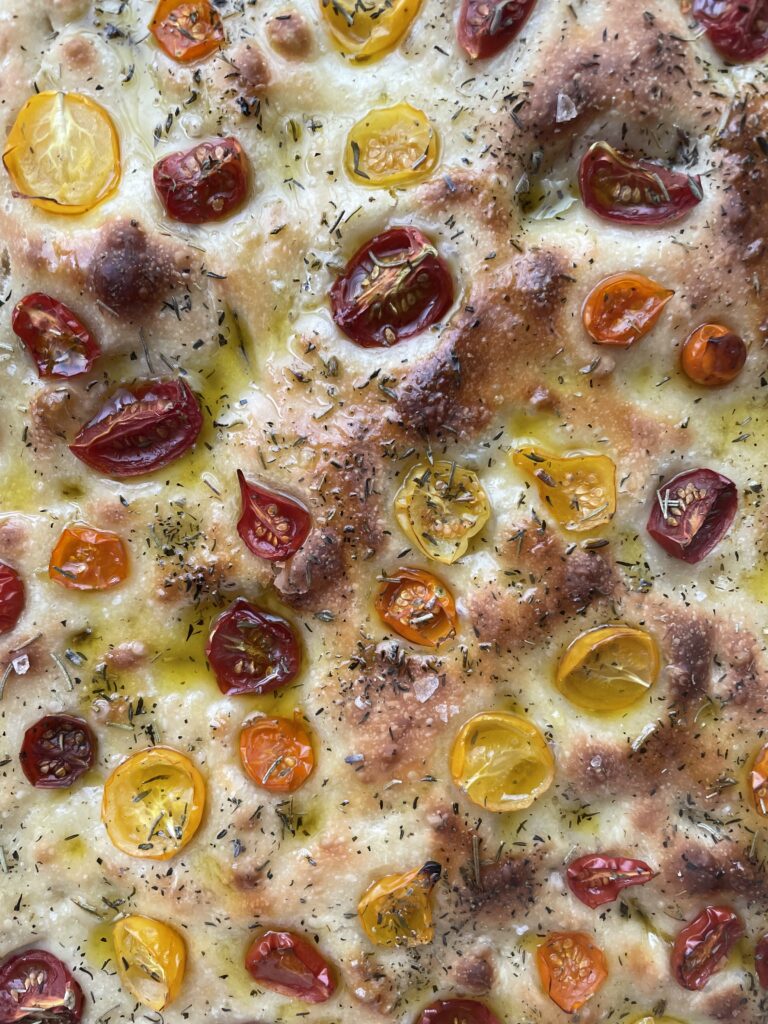 Serves: 5-6
Prep Time: 12-13 hrs (overnight prep)
Cook time: 25 minutes
Total time: 12-13 hours & 25 minutes
Ingredients:
2 ½ C warm water

½ tsp yeast

2 tsp honey

1 ½ Tbsp sea salt (or 2 Tbsp Diamond Crystal Kosher Salt)

5 ¼ C all purpose flour

¼ C Extra Virgin olive oil + more for topping

1 Tbsp Maldon Salt
*Optional-Cherry tomatoes or sliced heirloom tomatoes
Kitchen Equipment:
1 large bowl

Lid or beez wax wrap or saran wrap
18×13 rimmed baking sheet
Assembly:
OVERNIGHT PREP: 

Mix together in a medium bowl of warm water, yeast and honey. 

In a large bowl mix together salt and flour. Add in yeast mixture and olive oil. Mix until combined. Scrape sides down, and cover with saran wrap or lid. Leave dough overnight or for at least 12 hours. 

TIME TO BAKE!

 Add a drizzle of olive oil to the baking sheet. Roll dough onto baking sheet, top with more olive oil and gently spread dough evenly on the baking sheet. Allow the dough to rest another 30 minutes.

Meanwhile preheat oven to 450F. (If you have a pizza stone, throw it in the oven as well! This helps regulate the temperature. )

After the first rest, gently stretch dough on the sheet tray. Allow dough to rst another 30 minutes. 

After the second rest, press fingers down gently to dimple the dough. 

Add A light layer of oil, Maldon salt, Herbs de Provence, and optional tomatoes. 

Bake in oven for 20-25 minutes or until bottom is golden brown. Place back in oven on the top shelf and allow top to brown for 5 minutes.

Remove from the oven and place on a cooling rack for 10-15 minutes. 

ENJOY!!!
---
If you liked this recipe, discover more from Kelsey at www.notumamiscooking.com or on Instagram @not_umamis_cooking.
Overnight Focaccia with Herbs de Provence
---
---