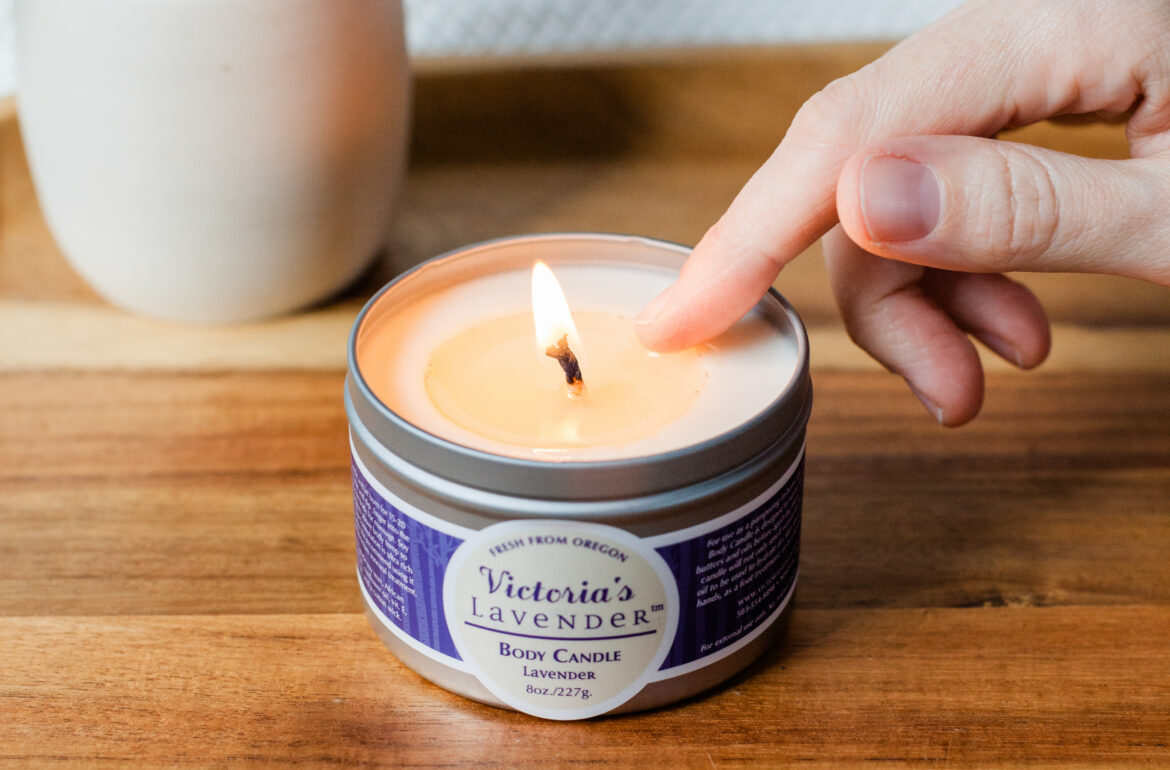 Welcome in Fall with our Moisturizing Body Candle!
Welcome in Fall with our Moisturizing Body Candle!
Changing leaves, sweaters, pumpkin EVERYTHING – what's your favorite part of the season? There is so much to love about the fall except the dry skin. Dry skin is more common during the fall and winter months, when humidity levels are relatively low. Sure, you can use lotion and other moisturizing products, but have you ever thought of using a candle!? These are serious CWB (Candles with benefits)!
Check out our Victoria's Lavender Moisturizing Body Candle which contains moisturizing ingredients such as:
Shea butter – An absolute favorite of ours for supreme moisturizing, Shea Butter boosts skin moisture, has anti-inflammatory properties which help soothe skin problems, can heal cuts and scrapes, helps fight breakouts & antioxidants may mean anti-aging properties.
Avocado oil – One of the top plant oils for skin due to its absorption and many other properties, avocado oil calms itchy skin, heals chapped skin, shields skin from ultraviolet radiation & protects against skin damage.
Sunflower oil – Contains oleic acid, vitamin E (antioxidant which helps protect from free radicals & adverse effects from the sun), sesamol and linoleic acid which benefits skin health. It is highly absorbent, won't clog pores & it is non-irritating for most people.  
High quality essential oils – (Lavender Essential Oil) Soothes eczema & dry skin, helps to lessen redness / irritation due to psoriasis and can help heal acne breakouts. If you have hyperpigmentation it can help reduce discoloration, including dark spots & lessen blotchiness and redness. 
"I love this candle! As a lavender lover the scent of this is strong, without being overwhelming, and pure-no trace of chemicals. The scent alone makes this worthwhile but the warm oil really makes it remarkable. I massage this on my hands and feet and am surrounded by scent and warmth for a truly peaceful sleep" – Verified Amazon Purchase
As you can see there are tons of health benefits to using our Moisturizing Body Candle. But wait! That's not all!
Did you also know what is exciting is that these candles can be used for massage as well.  You might think the wax would be too hot to rub onto skin. But actually they are designed to melt at 102 degrees Fahrenheit, slightly higher than average body temperature. Massage candles are not as hot as regular candle wax. When the wick is lit, the heat melts the solid candle into a skin-safe oil.
To use the body candle just light your favorite scent (comes in Lavender, Lavender Vanilla, Lavender Currant & Tropical Lavender) and enjoy the glow and fragrance as the oils warm up. Once melted, dip your finger into the warm oil and massage it into your hands, feet, elbows…. Anywhere that you want to soothe. 
If you are wanting to skip right past the fall season… And your mind is on the holidays…give the gift that is one of our top rated products to gift!  You cant go wrong gifting a Victoria's Lavender Moisturizing Body/ Massage Candle.  
"My daughter gave this to me for my birthday, it's ingenious, the scent is perfect and it is a great moisturizer, and what a fun idea. I am buying more for Christmas gifts." -Laura B
---
Make sure to follow us on Facebook and Instagram to keep up to date on your favorite small business. 
Welcome in Fall with our Moisturizing Body Candle!
---