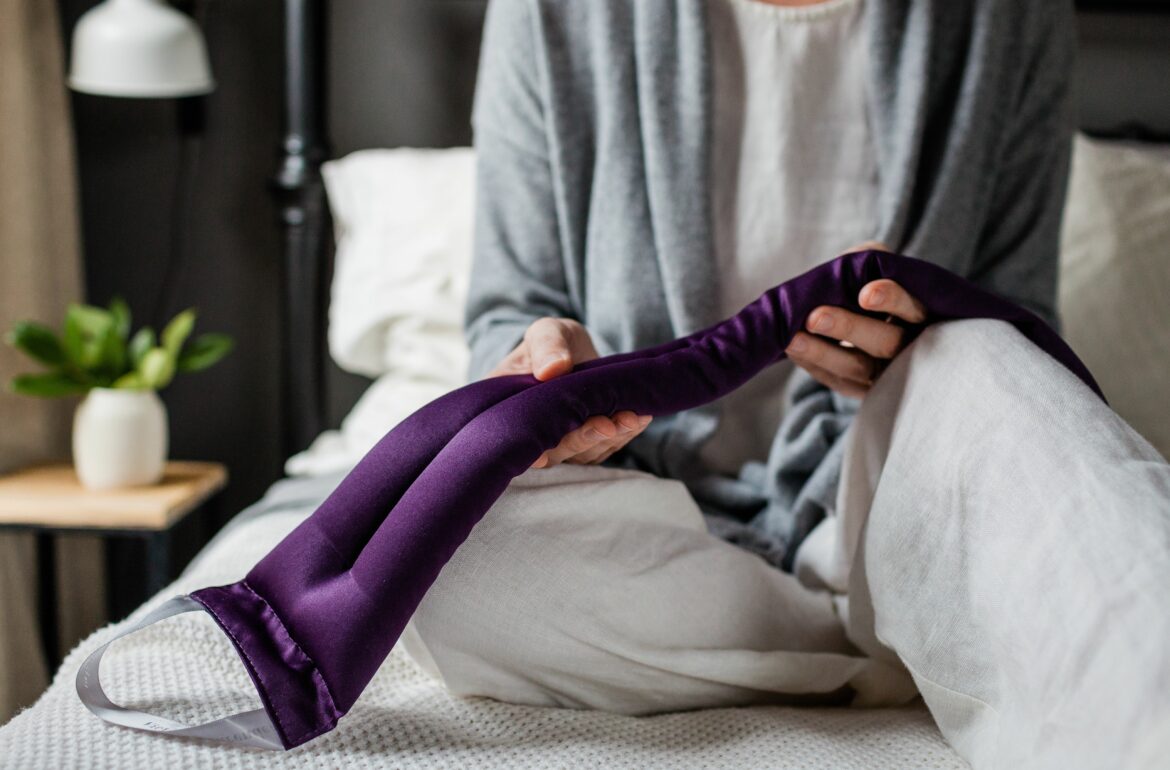 Luxury Lavender Neck Wrap
The exclusively designed Victoria's Lavender Luxury Lavender Neck Wrap is one of our top sellers. You can either heat in the microwave (*see important heating directions below*) or store in the freezer (in a ziplock bag) to experience the benefits of hot or cold therapy as the tension melts away! There are so many uses for it, a few are:
Soothe sore muscles after a workout

Provide Instant stress relief
Create the ultimate environment for an at-home spa day.

Cool down a hot flash

Ease the tension from a migraine
Aid insomnia when worn at bedtime
Assists with chronic pain like arthritis
Why our Luxury Lavender Neck Wrap stands out from the rest: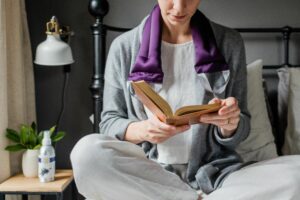 HAND CRAFTED: Each neck wrap is hand-sewn from the finest silky soft material and hand filled with organic flax seed and organic lavender from our private farm in Oregon. Our exclusively designed silky soft neck wrap conforms to the contours of your neck and is long enough to stay around your neck when moving about. Provides instant stress relief.
COMFORTABLE: It conforms to the contours of your neck without being too heavy. Victoria's Lavender has been making lavender neck wraps for over 15 years, perfecting the design. We purposefully do not overfill to make sure the wrap is not too heavy or stiff. It can be used anywhere on the body as a pain relief for muscles or joints. Try heating and wearing like a scarf when going outdoors or into a cold car.
HOT OR COLD THERAPY: Filled with flax seed and organic French Lavender (no rice, buckwheat, or wheat that can have unpleasant odors when heated). Heat in the microwave (*see important directions below*) and use for muscle pain/stiffness or chronic pain like arthritis. Can also be stored in the freezer in a zip lock bag and used for cold therapy.
AROMATHERAPY & HEALING PROPERTIES – Victoria's Lavender products are perfect for aromatherapy and relaxation. Our neck wrap has been thoughtfully designed to fit the neck without being too heavy on a sore neck. It has a truly aromatic scent without being too strong plus there is no smell of cooked rice or wheat as in some other products. Can aid insomnia when worn at bedtime.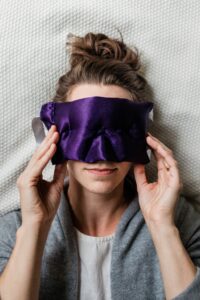 Safety Information:
The Luxury Lavender Neck Wrap has been tested by an independent lab and certified to the standards of the Consumer Product and Safety Commission. Warning: The Heat Wrap Can Burn If Not Following the Heating Instructions. To avoid hot spots and burns, make sure the wrap doesn't block the turn table from turning. Flip the wrap and shake the seeds to re-distribute to prevent burns. Make sure there are no food particles or oil on your microwave plate to avoid soiling your wrap as well as the potential for causing the fabric to burn.
Directions:
First make sure your microwave is clean, or put the wrap on a microwave safe plate. Microwave for 45-60 seconds to start, then in 10 second increments until reaching desired temperature. IMPORTANT: Each time you add time, take the wrap out and shake to disperse the seeds to avoid over-heating in one spot which can cause the product to burn. Make sure the turn table in the microwave is turning properly. When reheating, reduce the microwaving time to prevent the possibility of burning.
---
Don't hesitate to reach out to our team if you have any questions on our Luxury Lavender Neck Wrap or Eye Pillow.
---
Make sure to follow us on Facebook and Instagram to keep up to date on your favorite small business.
---