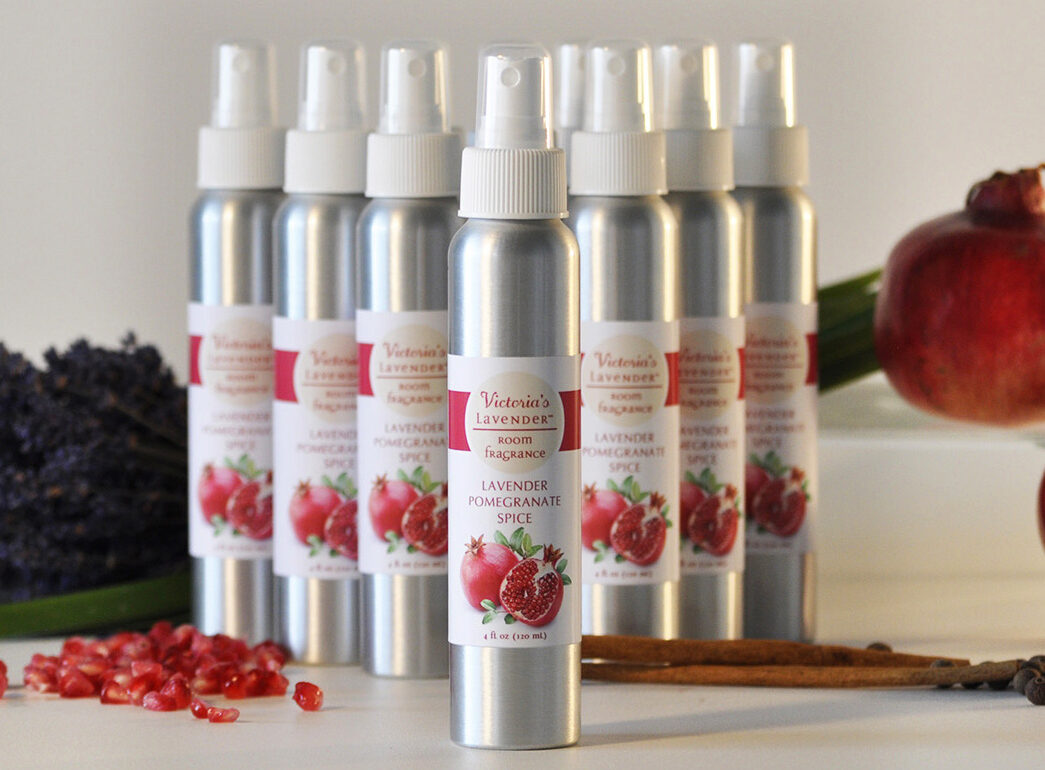 Pomegranate Spice Holiday Collection
Exciting news…. Our Pomegranate Spice Holiday Collection is back! 
---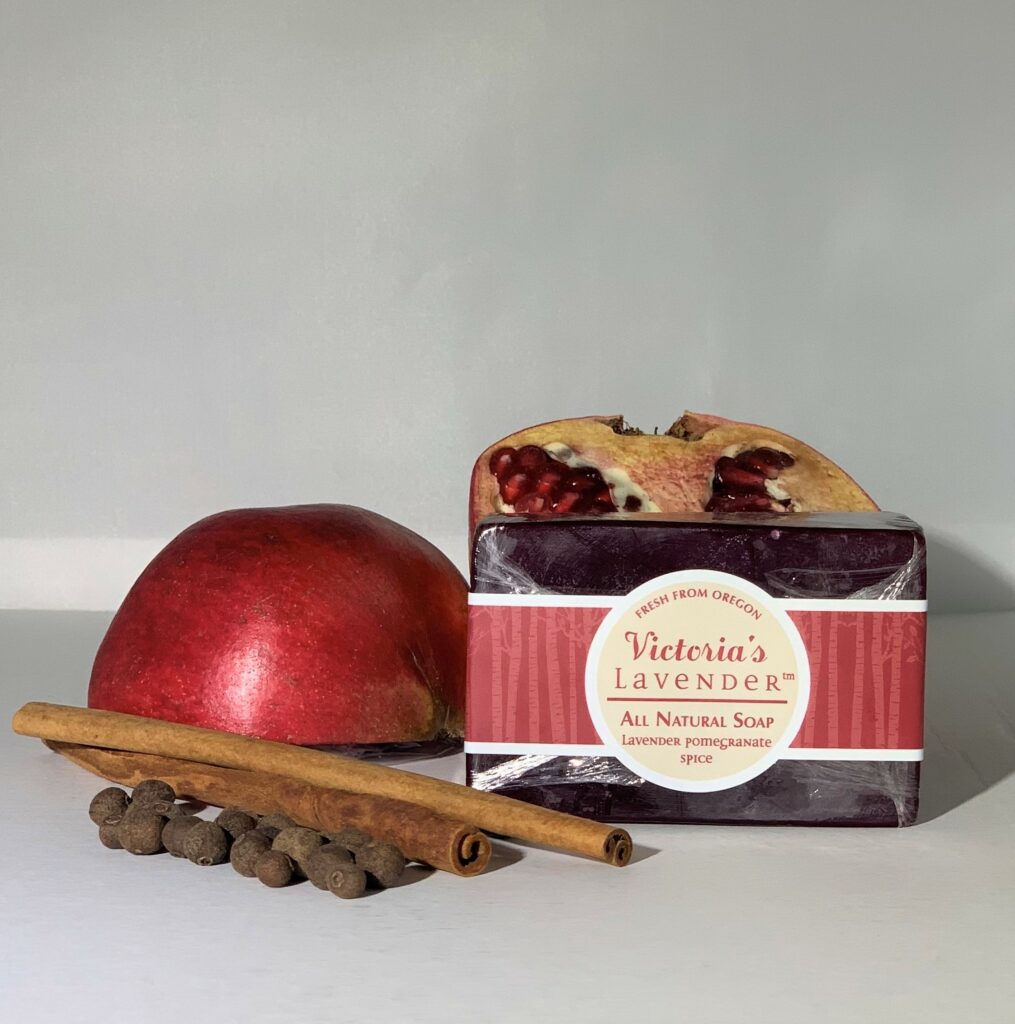 People often ask me where I get my inspiration for the fragrant ingredients in Victoria's Lavender products. When I was creating our Pomegranate Spice Holiday Collection, I wanted to call up memories of holiday gatherings with spiced cider, ginger bread, fresh baked pies…
So I began with our signature lavender essential oil, and added cinnamon, cloves…
I wanted to pair the spices with another ingredient that provided proven skin care and health benefits, and would blend with our signature lavender essential oil.
After much research, I decided on the pomegranate. Inside that beautiful ruby red skin, it packs a powerhouse of antioxidants, vitamins and folic acid.
Scientific studies and publications such as Women's Health have touted the moisturizing and protective benefits of pomegranate fruit and the oil from its seeds. It strengthens the outer layers (epidermis) and repairs deeper layers (dermis) of skin as well as promoting cellular regeneration. What this means for you is younger-looking skin.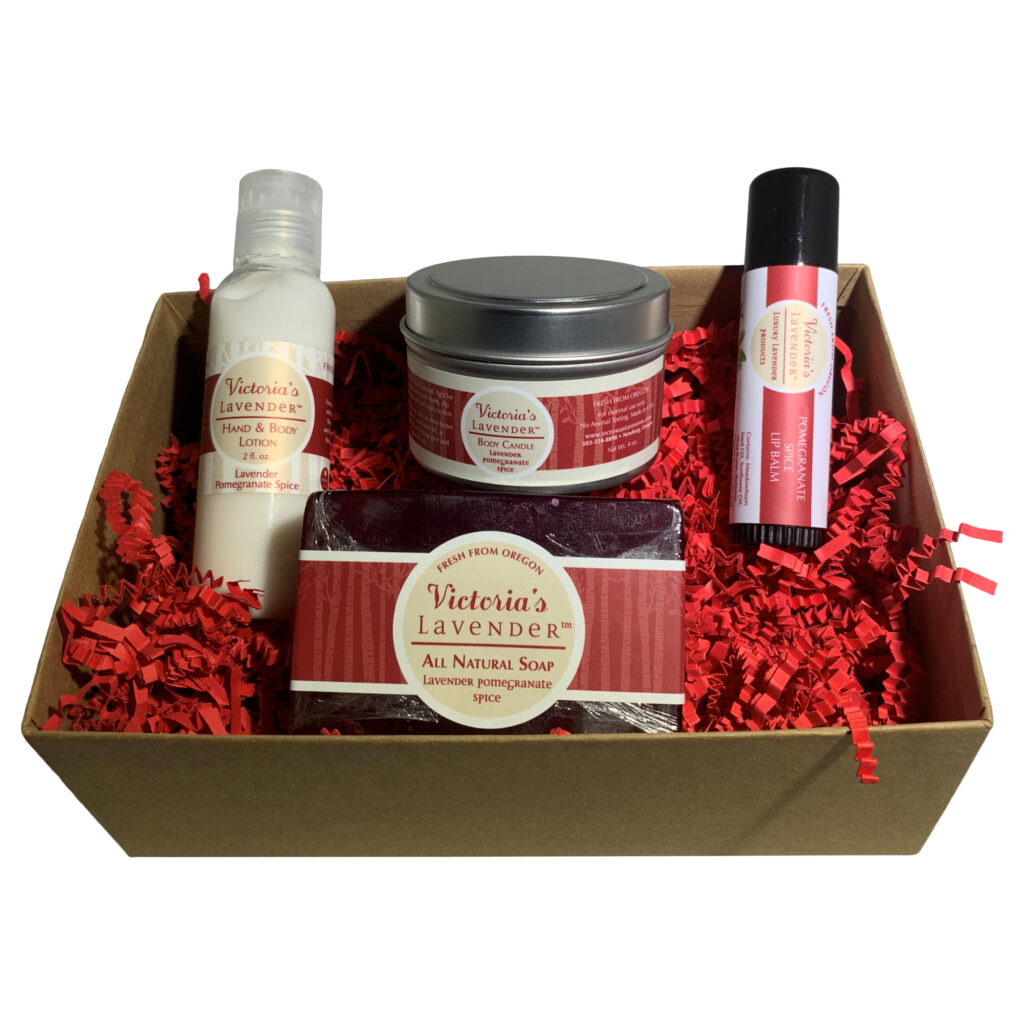 Our collection includes moisturizers like our Hand & Body Lotion, and a new 4 oz. Pomegranate Spice Body Candle. For a festive addition to your kitchen and bathrooms, you can find our bar soap in that beautiful pomegranate color. These products also serve as great gift ideas for the upcoming holiday season and this year we are offering two NEW products in the Pomegranate Spice Holiday Collection; lip balm and liquid hand wash!
Many studies have shown that our sense of smell is the most powerful in creating emotional memories. What better way to set the mood than light up a Pomegranate Spice Room Spray and fill the room with its sweet yet tangy aroma!
Our Pomegranate Spice Collection has something for every occasion, whether you want to spice up a family dinner, or enjoy some relaxing "me" time.
---
Make sure to follow us on Facebook and Instagram to keep up to date on your favorite small business. 
---
---