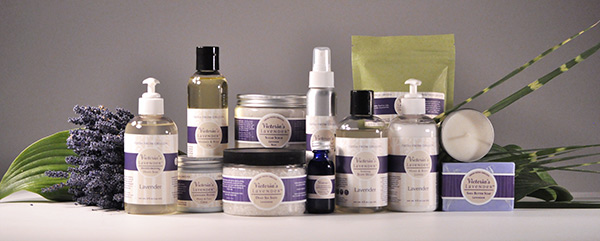 Lavender Lovers Club
If you are a lavender lover, or know someone who is, you will appreciate the many benefits of joining the Victoria's Lavender Lovers Club.
MEMBERSHIP BENEFITS
When you sign up for an annual membership, you will receive:
Quarterly shipments of a selection of our products, valued at $32-$35
15% discount on all products (with the exception of some items on special)
Free travel size products not usually offered to non-members
The opportunity to try products that you may not have ordered before
MEMBERSHIP FEE
You will be billed $28 (plus shipping) quarterly to your credit card on file.
The products to be included in each quarterly shipment will be announced in advance, so you can plan which items to keep, and maybe set a few aside for giving as gifts.
Sign up by clicking HERE and agree to a minimum one year membership.
WHAT CLUB MEMBERS ARE SAYING:
"I love this program! It's so exciting to get my box in the mail with all the lavender products and surprises!"
Beth L. (Her membership was a birthday present from her husband)
Love Victoria's Lavender. The Lavender Club is so worth it. The Don't Bug Me and After Sun sprays are Amazing. Love them both!! Keep up the great work! :-)
I bought this package for my mom for Christmas and she loves it! She received her first set right at Christmas and now just received the email telling her what she is getting in her next shipment and she can't wait! It was a great gift because it will allow her to explore new lavender products that she would otherwise not think of buying. Thank you so much Victoria's Lavender!