From Mummies to Monarchs
For more than 3,000 years, lavender has been prized for its medicinal properties, alluring scent and beauty benefits.
Its flowers and essential oil are appreciated worldwide, from its origins in the Mediterranean, Middle East and India. Join the women and men throughout history who made this amazing plant a part of their everyday lives.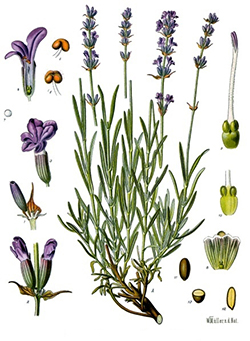 ANCIENT EGYPT
In ancient times lavender was used for mummification and perfume by the Egyptians, Phoenicians, and peoples of Arabia. When King Tutankhamen's tomb was opened in 1922, the lavender found within still retained some of its fragrance after 3,000 years.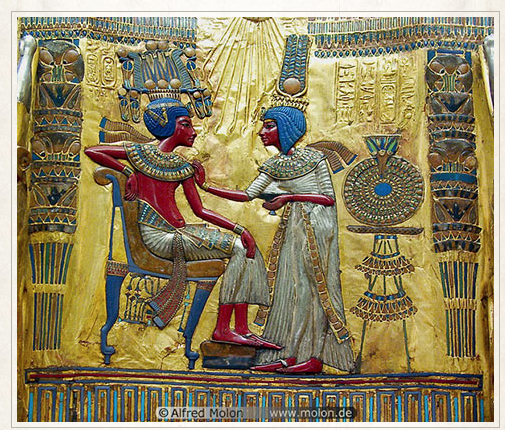 Tutankhamen Anointed by His Wife
This is a detail from the back of Tutankhamen's throne, from the tomb in the Valley of the King in Egypt.
Mary and the Christ Child seated in a lavender bush
Lavender in the Bible
Lavender is often mentioned in the Bible by the name used at that time – spikenard – derived from the Greek name for lavender, naardus. The gospel of Luke describes how Mary "took a pound of ointment of spikenard, very costly, and anointed the feet of Jesus, and wiped his feet with her hair; and the house was filled with the odor of the ointment."
ANCIENT ROME
Ancient Romans used lavender oils for bathing, cooking, and scenting the air. This is most likely the Latin root of its modern name (either lavare – to wash, or livendula – livid or bluish). The flower's soothing "tonic" qualities, the insect-repellent effects of the strong scent, and the use of the dried plant in smoking mixtures also added to the value of the herb in ancient times.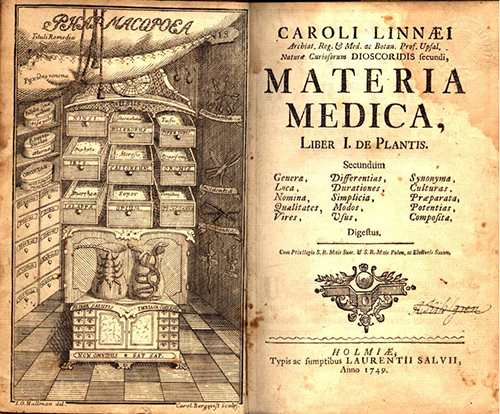 The first written record of medicinal use of lavender is that of Dioscorides in 77 AD. He collected medicinal plants for the Roman emperor Nero, and created a 5-volume work entitled De Materia Medica. His notes indicated lavender as a remedy for indigestion, headaches and sore throats, as well as a topical treatment for burns, wounds and skin ailments.
During Roman times, flowers were sold for 100 denarii per pound, which was about the same as a month's wages for a farm laborer, or fifty haircuts from the local barber. Lavender was clearly a highly prized herb.
EUROPE
In Medieval and Renaissance Europe, the washing women were known as "lavenders" and they used lavender to scent drawers and dried the laundry on lavender bushes. Also during this time, lavender was grown in so-called "infirmarian's gardens" in monasteries, along with many other medicinal herbs.
During the Great Plague in London in the 17th century, bunches of lavender were fastened to each wrist to protect the wearer against the deadly disease.
Elizabethan woman sniffing a lavender sachet
European royal history is also filled with stories of lavender use. Charles VI of France demanded lavender-filled pillows wherever he went. Queen Elizabeth I of England required lavender conserve at the royal table. She also wanted fresh lavender flowers available every day of the year, a daunting task for a gardener if you consider the climate of England. Louis XIV also loved lavender and bathed in water scented with it. Queen Victoria used a lavender deodorant, and both Elizabeth I and II used products from the famous lavender company, Yardley and Co. of London.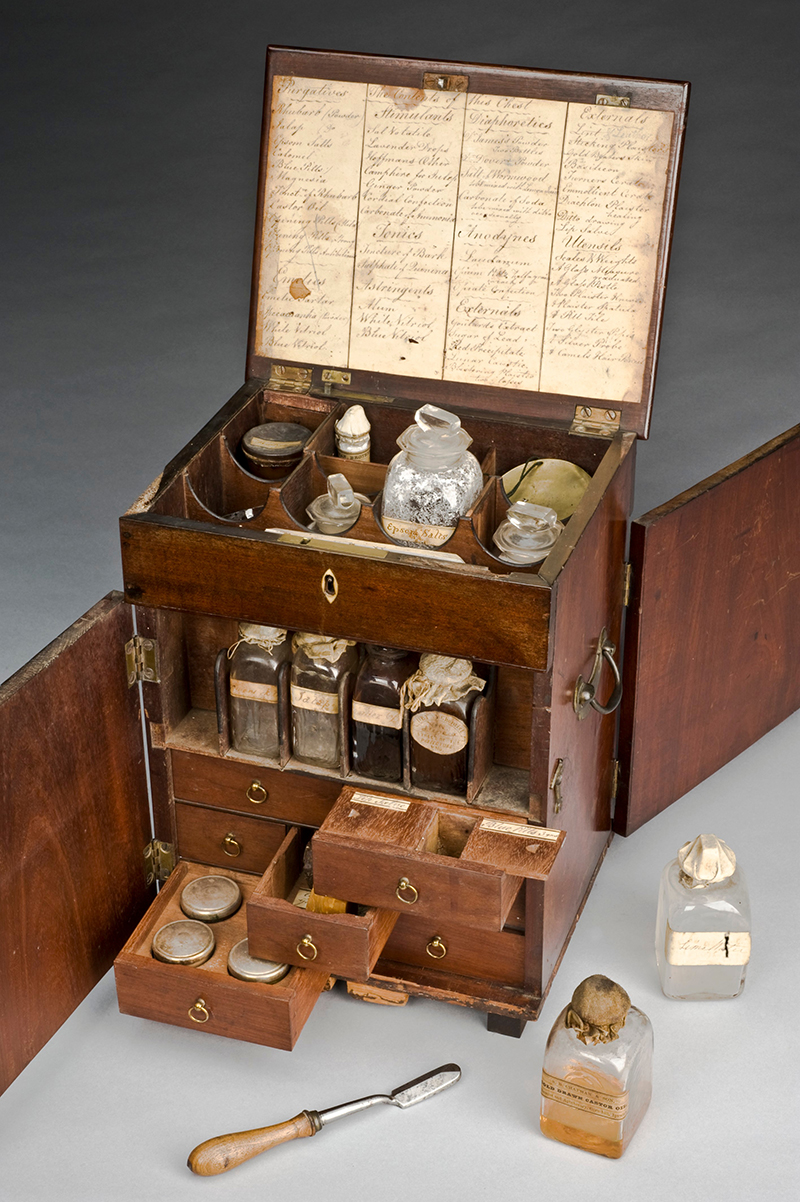 19th Century Medicine Chest including lavender essential oil.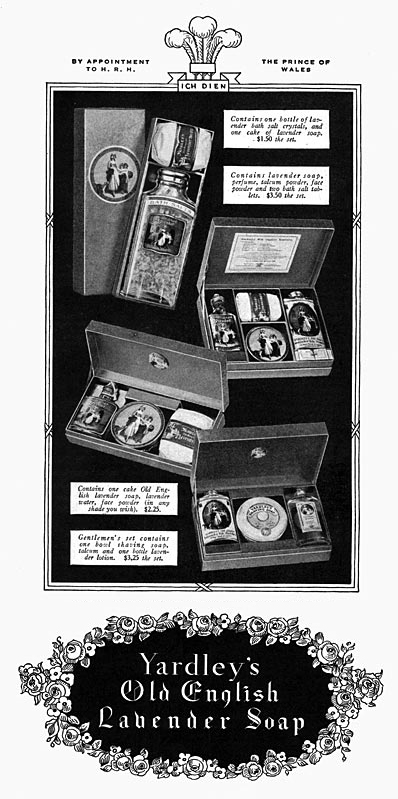 THE AMERICAS
What was once the rage in Europe quickly caught on in the Americas. History has it that the Shakers were the first to grow lavender commercially. They produced their own herbs and medicines and sold them to the "outside world." Later a New York advertising firm picked them up and sold the simple products worldwide.
Today Lavender continues to be cultivated across its Europe, Australia, New Zealand, North and South America. Its widespread presence is understandable due to its beautiful flowers, its alluring scent and its extensive uses.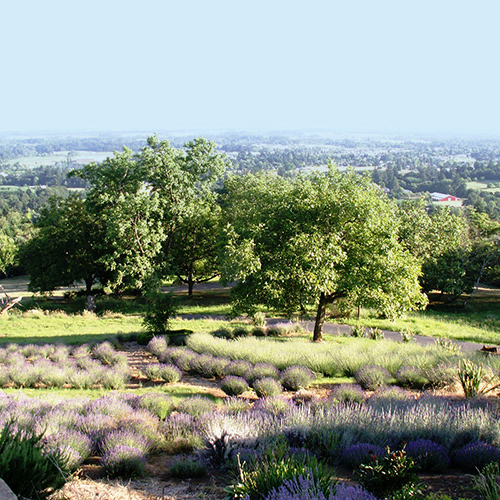 According to the Oregon Lavender Association (OLA), there are several lavender varieties (cultivars) that were first grown, discovered and propagated by Oregon lavender growers. Some of those Lavandula cultivars are now being grown and cultivated nationwide. Most of the OLA member lavender farms are in the Willamette Valley, a few are in the Columbia River Gorge and in Central and Southern Oregon.
One of the most widely cultivated species is Lavandula angustifolia, prized for its rich essential oil content. This is one of several species we grow here on our farm.